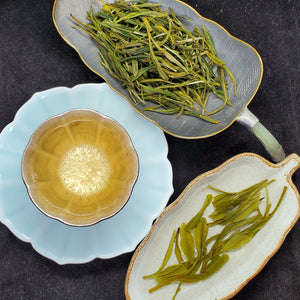 A great find in the wild of the Yellow mountain in An Hui province, harvested in early Spring.  Mao Feng is a slightly mature leaves resulting a robust flavor, floral aroma, sweet, intense, not bitter, not grassy, not astringent. 
Wild tea trees are untempered by the human and without city pollution. The taste is pure, crisp and refreshing, unlike tea garden teas.  The energy, Qi in Chinese term is very present and soothing. 
A great green tea requires hot temperature water.
Use 3 g for a normal coffee mug size cup, off boil water approximately 209 F.  Best result with Kungfu style brewing with either a teapot or gaiwan.   
Recommended water for all teas: very good quality filtered water, ie reverse osmosis filtered water.  Spring water suppresses the fragrance quite a bit.   Tap water is prohibited!