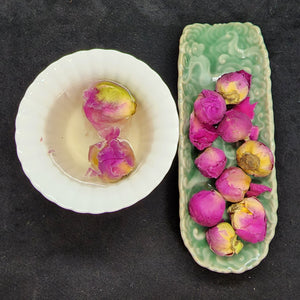 Pink peony flower buds from Henan province, mild dried herb flavors and slight honey sweet, slightly stronger than the open flowers, pleasant to drink. 
Medicinal use:
Do not consume this if you are pregnant or want to get pregnant!
Peony is used for gout, osteoarthritis, fever, respiratory tract illnesses, and cough. Women use peony for menstrual cramps, polycystic ovary syndrome, premenstrual syndrome (PMS), and for starting menstruation or causing an abortion. It is also used for viral hepatitis, livercirrhosis, upset stomach, muscle cramps, "hardening of the arteries" (atherosclerosis), and to cause vomiting. Peony is also used for spasms, whooping cough (pertussis), epilepsy, nerve pain (neuralgia), migraineheadache, and chronic fatigue syndrome (CFS).