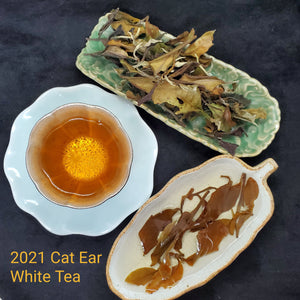 First time cat ear  Puerh leaves made as a white tea.  An on going experiment with Fall leaves from exceptional ancient tea trees of the best known regions. 
Gentle and sweet, warm like a cashmere scarf around the neck area.  Soft but deep! 
Use 3 g for a normal coffee mug size cup, off boil water approximately 209 F.  Best result with Kungfu style brewing with either a teapot or gaiwan.
Recommended water for all teas: very good quality filtered water, ie reverse osmosis filtered water.  Spring water suppresses the fragrance quite a bit.   Tap water is prohibited!