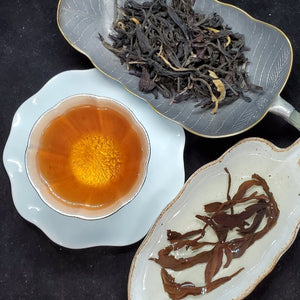 2022 Spring crop collected from the wild, sun dried to perfection.
A very unique black tea, fruity with an unique perfumy floral note, lingering sweet taste, dried fruit juice, soothing to the soul! 
Only tea trees that are grown in high altitudes above 1000 meters above sea level can produce purple leaves, anthocyanidin, a subgroup of flavonoids, a strong antioxidant, also is a self protection chemical from sun radiation.   
Wild tea trees are untempered by the human and without city pollution. The taste is pure, crisp and refreshing, unlike tea garden teas.  The energy, Qi in Chinese term is very present and soothing. 
Use 3 g for a normal coffee mug size cup, off boil water approximately 209 F.  Best result with Kungfu style brewing with either a teapot or gaiwan.   Good filtered water such as reverse osmosis water is highly recommended.